And so it was on the night of Tuesday the 24th of March that a good gathering of people descended on Korova in Fleet Street for the first (and hopefully not the last) LSMedia showcase, an evening of merriment and music organised to raise both awareness of and money for our University's media group. I'm pleased to be able to report that the night was definite success!
Having arrived early I was initially slightly worried by the turnout, but I needn't have been. By the time the night's first act, the very charming singer-songwriter Roxanne de Bastion, took to the stage the place had filled up nicely. Miss de Bastion has spent the last ten years working in and around Berlin but in recent times has been venturing over to England, and has already played in Liverpool's Cavern club. Her experience showed in a consummate performance. With her sweet, clever and well-crafted songs and her beaming smile Roxanne won the crowd over instantly and established a rapport with those gathered in an easy manner that allowed her to hold the audience's attention throughout. A little spell was cast, and when she got us all to sing a part of her final song we were only too happy to oblige. It was a wonderful way to get things started.
By the time she had finished more people had arrived and a good vibe had been created, so when James Munro came on shortly after he was warmly welcomed by all. An acoustic guitarist/singer-songwriter hailing from Manchester but now residing in Liverpool, Munro lists Bob Dylan and David Gray as his main influences and they are certainly both artists you could link him too, although the immediate connection I made on the night was to Nick Drake, not so much in sound but appearance. His intimate songs and enchanting delivery was spot on and followed on very nicely from where Roxanne de Bastion had left off. I'm sure he will be playing around the city over the coming months so if you see him advertised anywhere you could do a lot worse than to go and check him out.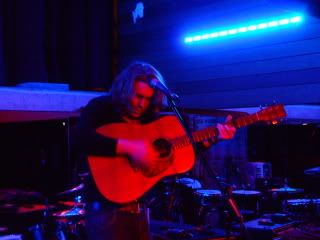 So by this time I had a few pints inside me and was ready for something to take the night up a gear. So it was just as well that Uncle Jeff were willing to oblige. A 5-piece outfit, they filled Korova's stage nicely and delivered a lively and diverse set of left-of-centre rock music that heated the place up nicely. Uncle Jeff delivered their melodic, interesting songs with vibrancy and fizz. Augmenting their songs with synth and lap-steel adds a broader dimension to their sound than just the guitars, and they vary their set nicely, deftly moving through a range of moods. Even when they played a song whose title escaped me but was introduced as being "about nuclear holocaust" they still managed to keep everyone enthused and entertained. They eventually left the stage with some very rock and roll feedback ringing through the basement room, with everyone happy and clapping. Nice.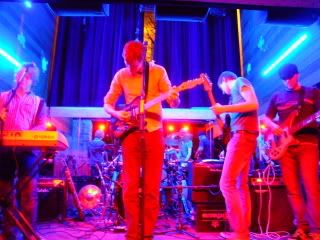 So now it was time to ROCK, oh yeah, and to this end and wrapping up the night nicely The Fuse took to the stage and did just that. They ripped into their set and got a good response from all gathered. It was time to shake some booty, something which those close to the front had no trouble doing. A storming cover of the Stooges classic "I Wanna Be Your Dog" was just what was needed to get everyone going and by the time they brought their set to a close at something like 11pm (I'd had a good few pints, so time wasn't really an issue) everybody had been left in no doubt that the night had been a good'un.
As I said, this is hopefully not the last of these nights. It was a victory on all fronts and a big thank you must go to everyone who came, all the acts, and also to our own Emily Langston for all the hard work she put into organising everything. Cheers Em! It was definitely worth it.