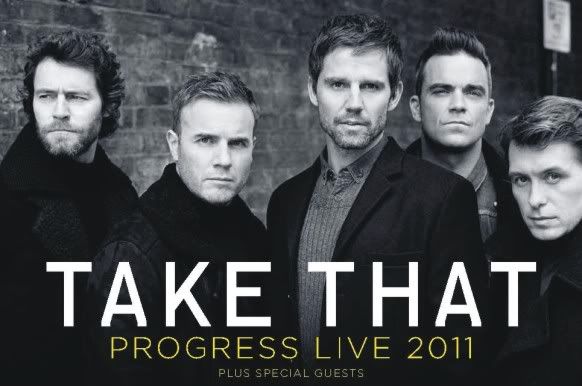 It seems I have a long and before yesterday unknown history with Take That. My mum tells me I apparently watched them at an outdoor festival in the early 90's just before they split, a time where tunes like Relight my Fire and Everything Changes were commanding the airwaves and most likely the world inside my pram into submission. It is even stranger that the first single I ever had was Millennium by Robbie Williams, a gift from my Dad on a cassette at the height of his solo career. These two events confirm either one of two theories, that my parents cruelly moulded there younger and therefore more impressionable son into a Take that fanatic, or my preferable theory, that the spirit and love for the band simply runs and breathes through my proud veins.
If this is the case then my viewing of the Progress Live Tour was my epiphany moment, for everyone else it was still nothing short of incredible. Spanning every strand of the bands successful career, the tour is effectively split up into three separate shows. The initial four revival band members open the show, Robbie Williams then delivers an astonishing solo set before they finally re-group as a complete 'man band', a set designed to emphasize the notion of Progress, the title of their latest album that has divided fans in its electronic direction and in the controversial re-introduction of Robbie Williams.
Many cynics have argued his inclusion and separate solo set within this tour is simply a calculated manoeuvre to reboot Robbie's failing solo music career, however this negativity can cloud the fact that this man was once considered one of the greatest live entertainers of a generation. His set serves as a stunning reminder of his capabilities, exploding onto the stage to the opening chords of Let Me Entertain You with a commanding stage presence and an instantly likeable cockiness that no other member of the band can and will ever possess. It is a testament to the man that he is still likeable even when he's being paraded around the stage over a plethora of women, rapping about super injunctions or being dangled over the crowd chanting the lyrics of Feel, he is simply a compelling entity of entertainment that the rest of Take That would be foolish not to let loose on stage. His part in the show, whilst slightly upstaging the first quarter, feels necessary for the progression into the spectacular latter half of the show.
A giant erectable robot, Spiderman-esque dancers, living chessboards, large scale waterfalls, fireworks and pyrotechnics are only part of what makes this one of the finest spectacles I have ever seen in a live show. It is all the more impressive when they successfully manage to completely strip down the show to simply them and a piano, ripping through condensed versions of old classics such as A Million Love Songs and Back for Good bringing the limelight to Gary Barlow who manages to make a stadium sized event feel like an intimate club gig. Each member is given their own room to breathe and excel, Mark Owen looks like he is having the time of his life, riding giant caterpillars in a theme reminiscent of Alice in Wonderland and commanding chess pieces in the electric stomper Kidz. Howard and Jason, whilst not having as such a integral role as the others, they are given time to shine in break dancing interludes and instrumental performances that help connect one enormous set piece to another. The massive crowd reaction to classics like Never Forget and Pray provide perhaps some of the best moments, with nearly 55,000 people singing back to the band and thrusting their arms in the air, it is a monumental sight to behold.
As the crowning set piece is fully lifted, it is incredibly hard not to get swept into the saga and admire the heights this originally manufactured boy band have reached. This tour not only boasts perhaps one of the finest visual spectacles that a band can offer, but it also serves as a celebration of pop music in general. A band who have managed separately and collectively to be current and exciting across three decades, it seems like this tour is a triumphant conclusion to one journey and only the beginning of another. Lets just hope this decade can be so kind.
By Adam Starkey